Middle School (6th - 8th Grades)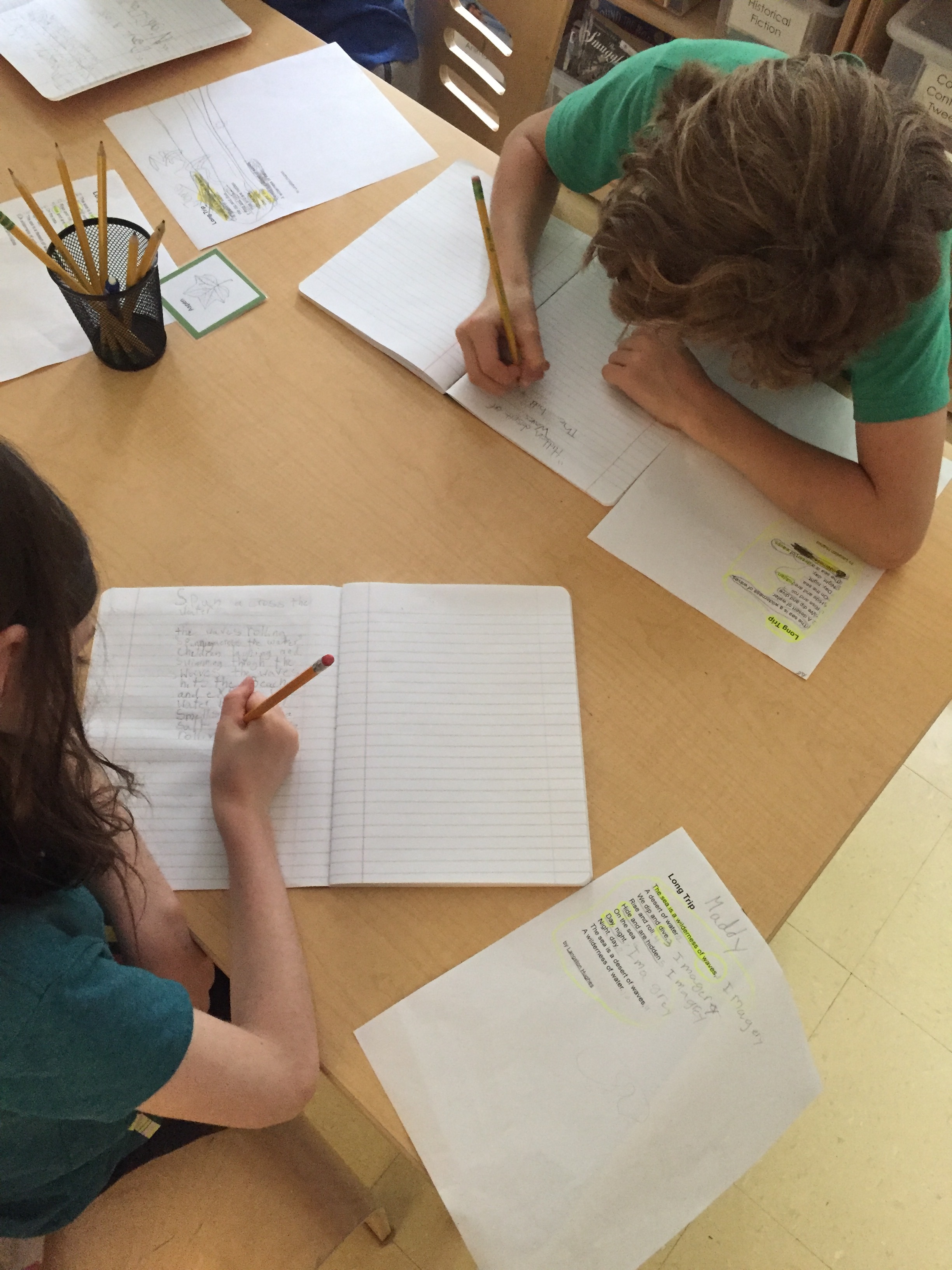 HUMANITIES
We study the humanities: reading, writing, social studies, civics, the arts and oral presentations at Birches in the middle school by helping students to become partners in their own learning. Here, learning is not a passive endeavour. Students must show evidence of their understanding of class themes and unit studies in a variety of ways. Read more about the humanities as part of our ocean unit.
Reading and Literacy
By middle school, students are moving from learning to read to reading to learn. We take that a step further at Birches by teaching in ways that enhance critical thinking by connecting students to the world around them through literature, social studies and art. Students participate in weekly independent reading, read alouds, and focused literature study through literature circles and whole class texts.
Writing
Students in middle school are beginning to examine their role in the world and as such, much of their writing delves into personal and then societal examinations of the world around them. Students here develop their writing voices in order to write for a variety of different audiences and purposes.
Social Studies and Geography
Students in middle school yearn to be connected to history and current events. At Birches we strive to bring history and social studies alive for students by integrating history with literature and the arts. Social studies at Birches are driven by an inquiry based model. Students here learn to answer and examine questions about our shared humanity.
Oral Presentation
Being able to speak and listen with purpose are important skills for Birches students. Here, students learn these skills through focused listening assessments, rehearsed oral presentations, poetry recitations and "news and views" morning meetings.

MATHEMATICS
Level 5 Math
Much like the Upper Elementary, the 5th grade math curriculum continues to build upon our thematic units through student participation in math congresses. In our most recent math congress students simulated the lives of marine biologists where they explored the five oceans and studied different animal species that inhabited those waters. Students completed missions where they were asked to track and compare lengths of different whales, graph the daily food intake of different whale species, and solve word problems analyzing the birth rate of various whales and dolphins. Later missions saw students studying sea turtles and their hatch rates, studying the feeding habits of polar bears in the arctic, and the effects of an oil spill on penguin reproduction near Antarctica. While investigating and traveling through each of the oceans, students will explore and study a different marine animal species. For each mission and species studied, students will solve real life examples and problems using their understanding of number sense, order of operations, multi-digit multiplication and division, fractions, and decimals. The beginning of the year is spent strengthening our number sense through the study and exploration of place value, exponents, integers, and multiplication and division of whole numbers, decimals, and fractions.
Level-6 and Level-7 Math
Our Middle School Math Program at Birches follows the scope and sequence of the Connected Mathematics (CMP3) Program by Pearson. Students in Level-6 and Level-7 look deeper and connect to mathematics through practical applications and problem solving. The inquiry-based program is focused on reasoning and proof, communication and representation, and helps students to make connections to using math in realistic, everyday situations.

Investigations
In the upper grades, students begin to develop a systematic view of the kinds of complex and nuanced interactions that exist between organisms within an ecosystem. Students are able to articulate the interdependency of organisms and understand the complex relationships of an ecosystem.
Older students at Birches are given opportunities to employ their skills through systematic investigations. They conduct more long term experiments that foster their understanding of how to design and execute a controlled experiment. In addition to student experimentation, science concepts are taught through stories, expert guests, video, and selected literature.
Read more about the yearlong overview for middle school investigations.