Nature-based Curriculum
Birches School is located in Lincoln on four acres of private woodlands where we play, investigate, and work each day. The campus has several outdoor classrooms, a woodland play space, and a rock garden for bouldering as well as quiet reflection. The school is also directly adjacent to acres of pristine conservation land with miles of trails to explore leading to deCordova Museum and Sculpture Park and even Walden Pond.
These multi-purpose outdoor spaces support our growing K-8 school with places for independent work, read alouds, performances, scientific research, play, and quiet reflection.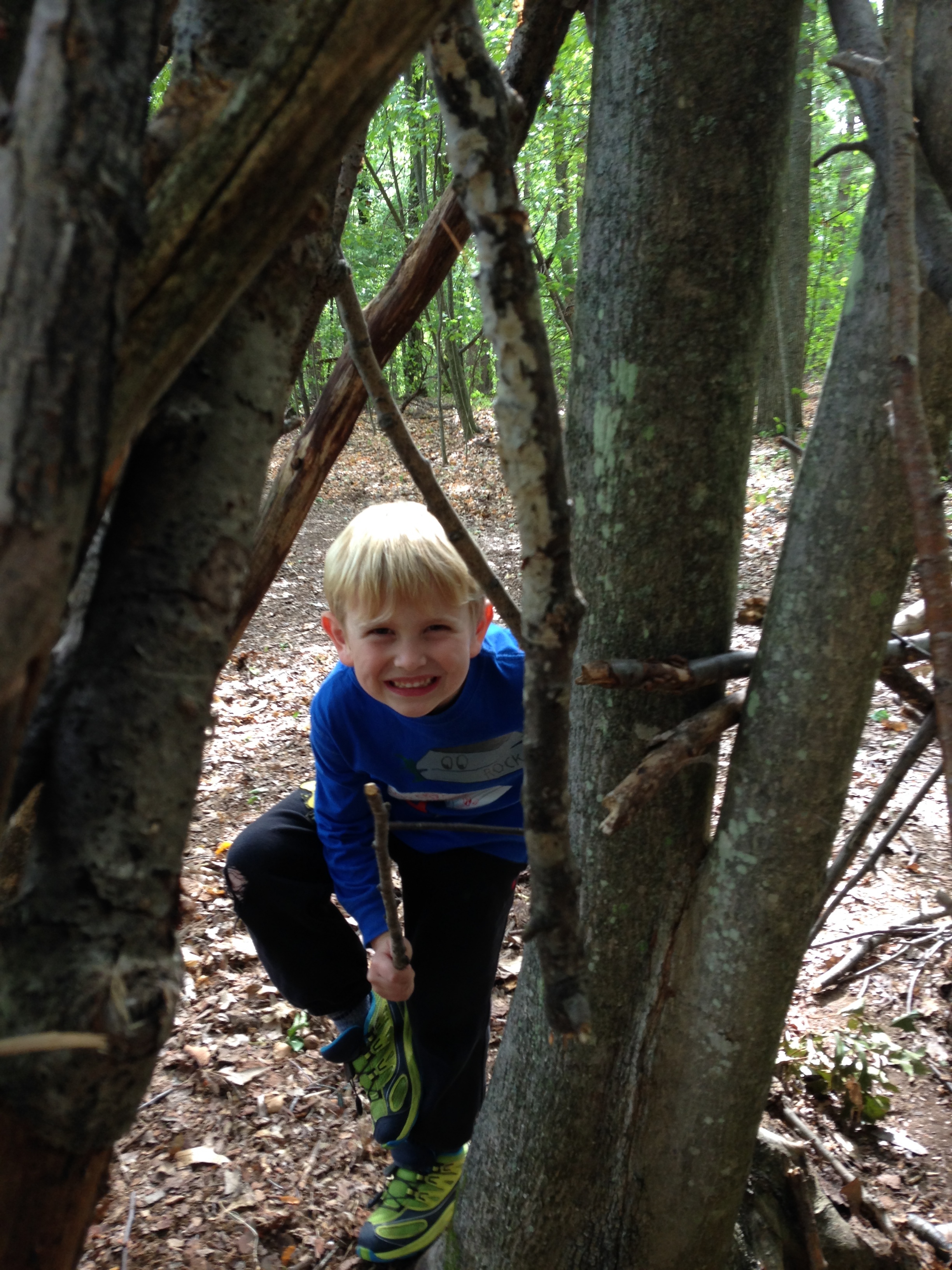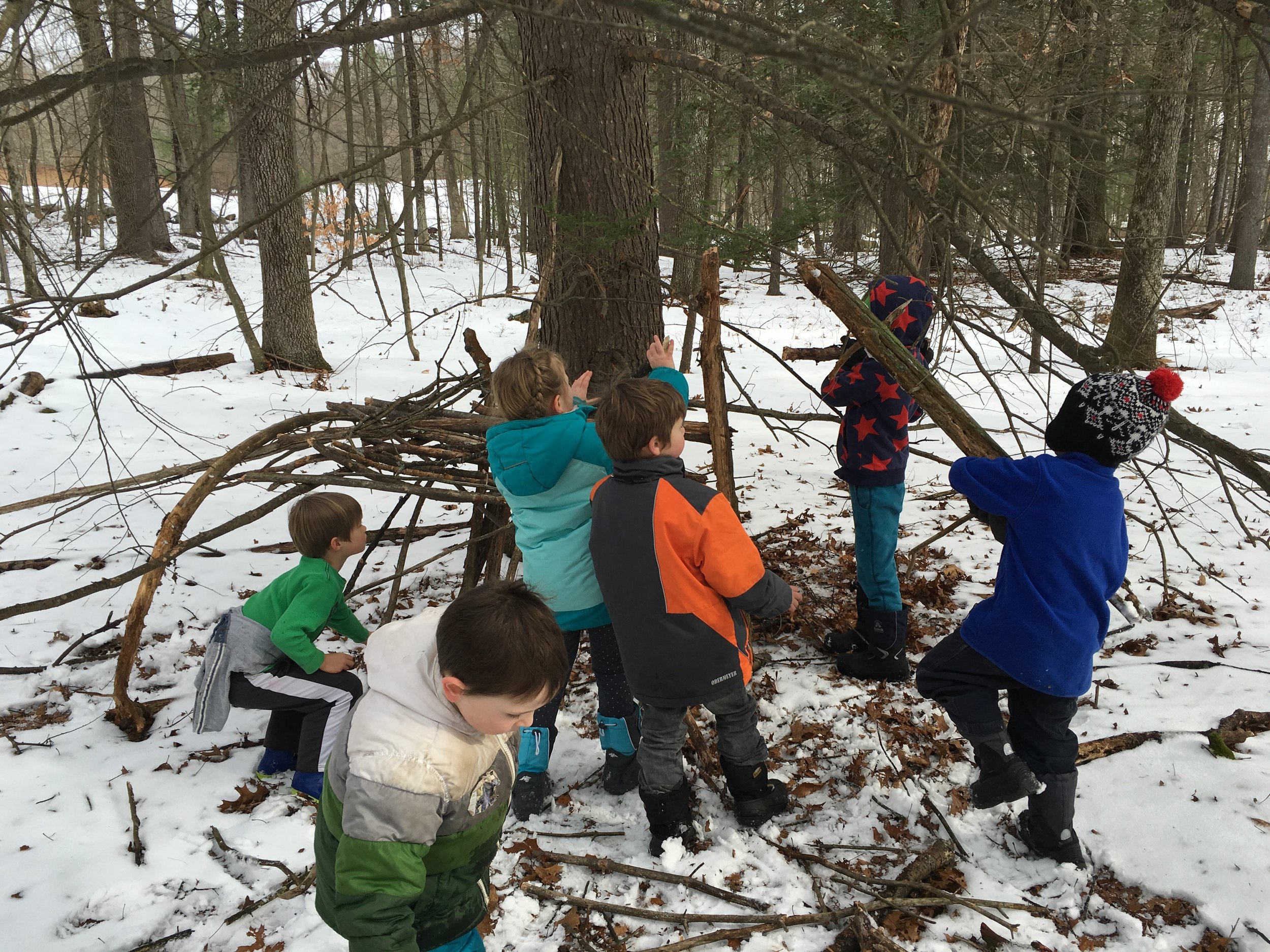 WHAT IS "NATURE-BASED"?
Birches believes that enjoyment and exploration of the natural world is a critical component of a well-rounded childhood. Most of our academic time is spent inside the classroom but nature drives many of our themes, encouraging stewardship, exploration and appreciation of our natural world. Our staff and students also just enjoy being outside and all students spend time outside every day. We engage in activities from nature journaling and gardening to igloo building, tree climbing, trail running, and more. Our partnership with the Lincoln Land Trust has also afforded us new curricular opportunities like our recent work with the pollinator meadow in Lincoln.
NATURE PLAY
Birches students enjoy the outdoors, particularly the woods and wetlands, in a variety of ways. All children, and particularly our youngest classes, love Nature Play--an opportunity to explore, run, climb, and play in the woods. These times are open-ended: some children engage in dramatic play, concocting marvelous plots for their woodland adventures. Others seek physical challenges, practicing balancing on logs and climbing trees. Curious children can always be found investigating the crevices of a rock wall, observing critters, or inspecting a spider's delicate web.
As students get older, playing in the woods is still an integral part of their Birches experience, but they also do weekly nature journaling, go on longer hikes, and have different weekly Exploration classes in the woods.
Nature Journaling:
Field notebooks are used for nature journaling in older grades as a powerful tool in students' ability to track their observations while outdoors. Birches students use weekly journaling to blend their observational drawing with writing. Nature journaling allows students to zoom in on details about plants, animals, and the environment. Through prompts that integrate art, science, and language arts, students develop important skills in gathering information, making careful observations, and documenting their thoughts, while out in the field.
People for Pollinators
A local meadow, conserved and protected by the Lincoln Land Conservation Trust, was designed and installed by the People for Pollinators collective. People for Pollinators is a collaboration of Lincoln, MA-based organizations and individuals dedicated to the promotion, protection, and creation of habitat that supports the vitality of pollinators.
People for Pollinators is a collaboration among Birches School, the Lincoln Land Conservation Trust, Lincoln Garden Club, Lincoln Conservation Commission, Lincoln Agricultural Commission, Stonegate Gardens and individuals in the Lincoln community.
In spring 2016, People for Pollinators hosted a community-wide planting. Many Birches students participated in the installation of over 700 plant plugs in a 4000 sq ft meadow.
Previous studies suggest that plants grown in re-mineralized soil are more nutrient rich, are overall healthier, and will attract more pollinators compared to plants that have been grown in untreated soil. Birches students are testing this hypothesis by looking at the effects of adding minerals to the soil.
The meadow contains two circular plots: one plot has been mineralized and one plot has been left untreated. Both plots have plants and seeds that are of the same type and have been planted in the same location. Sun exposure, water drainage and other factors are variables. No pesticides of any kind are being used in either plot.
Students participating in the field study collect seasonal data on plant growth, pollinator type and number, and document overall plant health of the two plots. Species identification, photography, observational drawing, and uploading data to iNaturalist.org are just a few examples of student projects.