Upper Elementary (2nd - 5th Grades)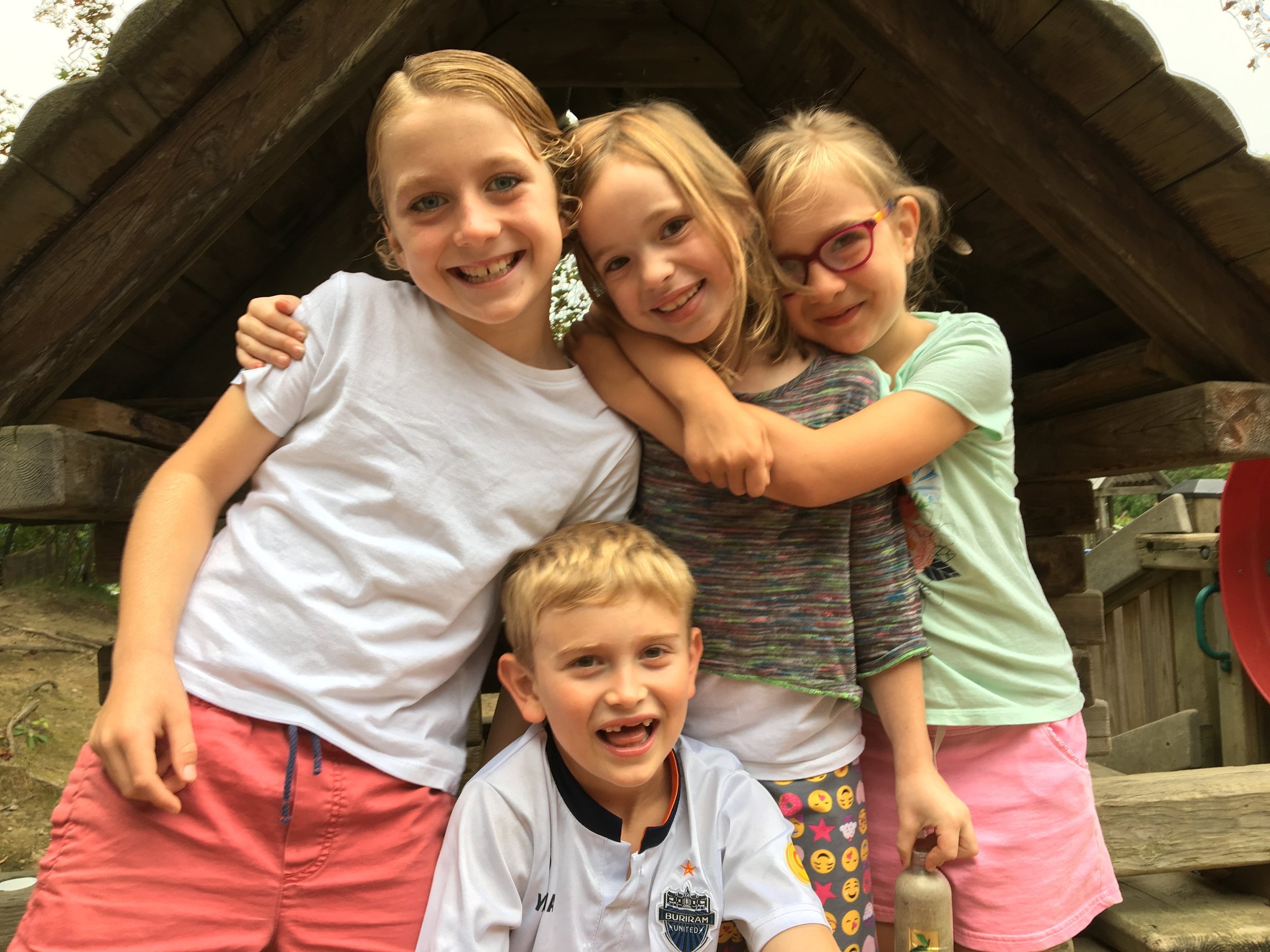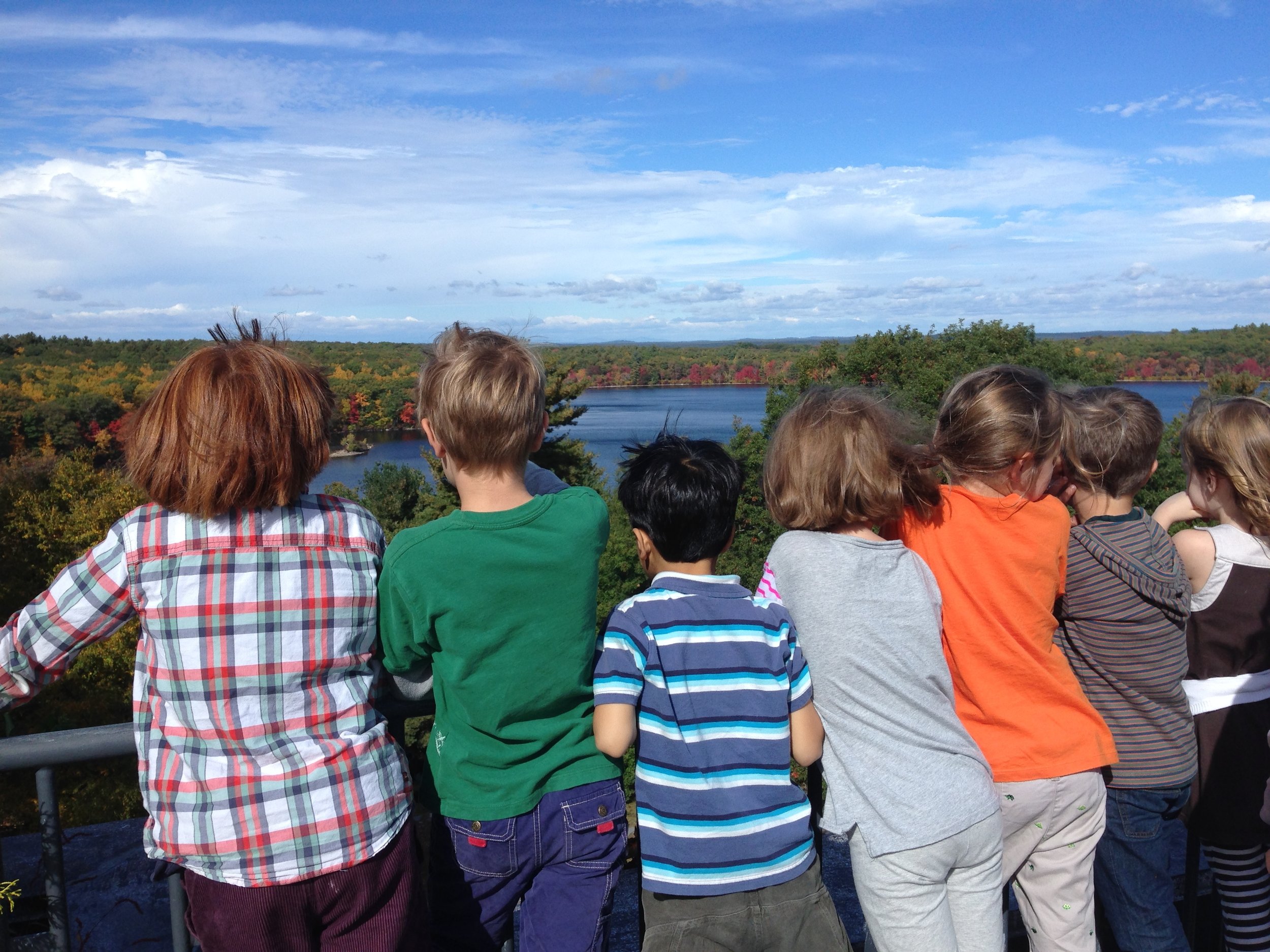 Writing
In the upper elementary classrooms, our writing curriculum focuses on developing students' skills as writers using a variety of genres. Our writing assignments are broken up into units. Each unit, whether personal narrative, fiction writing, or poetry, lasts for several months to allow students to invest in their work and to see their growth as writers. The children work on their writing at their own paces, receiving guidance on topics like style, grammar, and spelling through group mini-lessons and daily conferences with teachers. They move through the stages of writing (drafting, revising, editing, proofreading, and publishing) with the support of their teachers and peers. Students' writing is woven into the curriculum, bringing their interests and passions alive. Past writing units have included persuasive essays to protect the national parks under study, journals from explorers journeying to new lands, and published magazines about marine animals.

READING
Reading Workshop in the upper elementary grades focuses on supporting and developing students as readers. We want our students to develop a love of reading and we help them experience the joy and wonder that books provide. As students grow in their reading abilities, teachers work with them to find series and stories that captivate their interests. In the younger grades, depending on their needs and abilities, students work on decoding strategies, build fluency, and strengthen comprehension.
Children begin participating in Literature Circles during third grade. Literature Circle is run by the children as they cycle through their group roles ranging from artful artist to discussion director. This is students' first real introduction to homework. Homework is scaffolded and children practice developing consistent daily routines, time management, and organizational skills while working on various roles to present to their literature circle groups at school.
Listening to stories and exploring texts as a class are other aspects of reading. Teachers read to students from a range of texts including fiction and nonfiction, chapter books, picture books, online resources, poetry, and various informational texts. Sometimes the class reads these texts to pull information related to science; other times, teachers use sample texts as bases for writing lessons. Students are always listening to an ongoing chapter book related to the current area of study, enabling them to discuss themes, narrative structure, character development, and relevant topics connected with our studies.

MATHEMATICS
Math in the upper elementary level works on bringing numbers to life. Building on our thematic units, students participate in math congresses where they work in teams to problem solve, investigate, and learn how numbers connect to the real world. In our most recent math congress, students entered the unknown! Simulating the lives of marine biologists, they embarked on journeys to explore the five oceans and some of the animals that inhabit these waters. Through these experiences, students work on their mathematical skills, including tracking and graphing sharks, comparing measurements of whales, studying sea turtles and their hatch rates, helping penguins during an oil spill, and learning about polar bears in the Arctic. During each ocean visit, students study a different species, using the skills of number sense, estimation, place value, operations, and measurement to problem solve real examples and bring the numbers to life.
In second grade, there continues to be heavy emphasis on concrete experiences using materials (some made by the children, such as fraction strips, and some commercial, such as The Powers of Ten). We draw from everyday, hands-on experiences incorporating math into the daily life of the classroom. Our emphasis on problem solving stresses the fact that how we arrive at an answer is oftentimes as important as the answer itself. Collaborative math activities provide the children with opportunities to share and appreciate a variety of perspectives and approaches.
In third grade mathematics, we continue to build on previously learned concepts, expanding into a deeper investigation of all four operations and the application of mathematical skills with more challenging problems and real world situations. Students tackle larger math projects often related to current themes while practicing multiplication and division skills and expanding exploration of measurement and geometry content. Students continue to develop their number sense, manipulating increasingly complex numbers in order to solve more challenging problems and projects.
The Birches fourth grade math curriculum focuses on strengthening students' critical thinking skills through the solving of real world problems. Throughout the year, students participate in math congresses that integrate thematic units into mathematical context. Time is spent at the beginning of the year reinforcing number sense and place value skills, while introducing larger and more complex concepts of multiplication and division. Manipulatives and tools are often used in the classroom to connect student learning in a variety of ways. Fraction strips, fraction pies, and pattern blocks provide tactile learning opportunities for students to develop a deeper understanding of fractions and decimals. During our geometry unit, geoboards are used to explore various geometric concepts including area, perimeter, and defining the characteristics of triangles and other polygons. Students are introduced to protractors as a means to measure length of objects and degrees in a given angle. Students are given weekly "questions of the week," which consist of two open ended questions that have more than one correct answer and offer more than one strategy to obtain the answer.

INVESTIGATIONS
Students in middle grades begin to examine how organisms meet their basic survival needs. In examining the relationship between form and function, students begin to appreciate how traits of living things are fine tuned for survival within a given environment. Students study the interactions among organisms and examine how conditions within habitats limit the types of species that are able to survive there.
Middle grade students are also broadening their view of the scientific world and seeking to explain observed inconsistencies. When they observe different results in repeated trials, middle graders are asked to pursue explanations. Through these observations, students begin to see that the inconsistencies can result from differing methods and that these observations lead to new questions and further investigations.